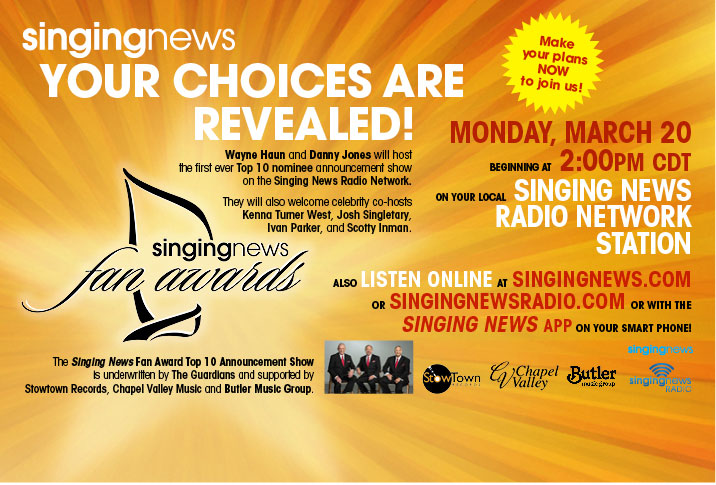 Singing News Fan Awards Top 10 To Be Revealed In Special On-Air Broadcast
By
Staff
Wednesday, March 8, 2017
Nashville, TN — On Monday March 20, 2017 beginning at 2 p.m., CDT, Wayne Haun and Danny Jones will host the first-ever Top 10 nominee announcement show on the Singing News Radio Network!
The premier broadcast will feature celebrity co-hosts Kenna Turner West, Josh Singletary, Ivan Parker, and Scotty Inman!
Make your plans now to join us! The Singing News Fan Award Announcement Show is proudly presented by The Guardians and supported by StowTown Records and Chapel Valley Music!

Tune in on your local Singing News Radio Network affiliate, online at singingnews.com or singingnewsradio.com, or on the Singing News Radio app on your smart phone or tablet!
You can find the app at the following locations:
For an iPhone or iPad (Apple iOS devices):
CLICK HERE TO DOWNLOAD
For Android devices:
CLICK HERE TO DOWNLOAD