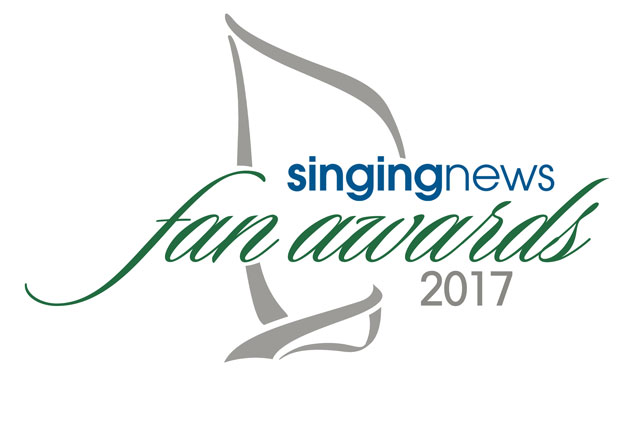 2017 Singing News Fan Awards Top Ten Nominees Announced
By
Staff
Monday, March 20, 2017
The Singing News Fan Awards are the Southern Gospel industry's PREMIERE fan-voted awards, with winners decided by the readers of Singing News. This year's show is set to be another amazing event, taking place at the National Quartet Convention in Pigeon Forge, Tennessee, later this year.
This year we are announcing the Top 10 nominees during a special on-air broadcast on Singing News Radio. We will be updating this article as quickly as possible during the broadcast.
Subscribers to Singing News have spoken in the first of three rounds of voting, and voting for the second round will begin soon.
If you wish to vote in the second round, but don't already have a subscription to Singing News don't forget to SUBSCRIBE TODAY to be eligible to vote in the second and third rounds!
2017 Singing News Fan Awards Top Ten Nominations
Note: Nominations are listed in alphabetical order
New Artist
Cana's Voice
Franks, Josh & Ashley
High Road
Kramers
Master's Promise
Sheldon Family
Sherry Anne
Smith, Logan
Surrendered
Wisecarvers
Young Artist
Bowling, Hope—Bowling Family
Clark, Autumn Nelon—Nelons
Conkle, Trevor—Hoppers
Easter, Morgan—Jeff & Sheri Easter
Erwin, Katie—Erwins
Gooch, Kari—Karen Peck & New River
Hayes, Kennedy—Mylon Hayes Family
Hopper, Karlye—Hoppers
Smith, Logan—Soloist
Townsend, Josh—LeFevre Qt
Songwriter
Bishop, Mark
Brady, Jim
Crabb, Gerald
Gooch, Karen Peck
Griffin, Rodney
Habedank, Joseph
Hinson, Ronny
Inman, Scott
Rowland, Kyla
Wilkinson, Dianne
Radio Station
KJIC—Houston, TX
KTTK—Lebanon, MO
KWFC—Springfield, MO
WCKB—Dunn, NC
WCON—Cornelia, GA
WEMM—Huntington, WV
WGUS—Augusta, GA
WHQA—Greenville, SC
WJBZ—Knoxville, TN
WXRI—Winston Salem, NC
Musician
Collingsworth, Kim—Collingsworth Family
Elliott, Bryan—Gold City
Hopper, Mike—Hoppers
Ivey, Trey—Legacy Five
Mote, Gordon—Soloist
Singletary, Josh—Tribute Qt
Stice, Jeff—Soloist
Stringfield, Andy—Kingdom Heirs
Williams, Kevin—Gaither Vocal Band
Wolfe, Gerald—Greater Vision
Alto
Bean, Peg McKamey—McKameys
Browder, Sonya—Browders
Clark, Kelly Nelon—Nelons
Easter, Sheri—Jeff & Sheri Easter
Hopper, Connie—Hoppers
Jackson, Susan Peck—Karen Peck & New River
Metz, Courtney—Collingsworth Family
Stuffle, Libbi—Perrys
Talley, Debra—Talleys
Whisnant, Susan—Whisnants
Soprano
Blair, Brooklyn—Collingsworth Family
Brady, Melissa—Jim Brady Trio
Erwin, Katie—Erwins
Fortner, Connie—McKameys
Gooch, Karen Peck —Karen Peck & New River
Greene, TaRanda—Cana's Voice
Hopper, Kim—Hoppers
Talley, Lauren—Talleys
Thompson, Amber Nelon—Nelons
Yeary, Sonya Isaacs—Isaacs
Tenor
Allman, Chris—Greater Vision
Booth, Michael—Booth Brothers
Clark, Riley—Tribute Qt
Feemster, Josh—Legacy Five
Free, Brian—Brian Free & Assurance
Haase, Ernie—Ernie Haase & Signature Sound
Martin, Jerry—Kingdom Heirs
Peace, Jeremy—LeFevre Qt
Phelps, David—Gaither Vocal Band
Sutton, David—Triumphant Qt
Lead
Booth, Ronnie—Booth Brothers
Brady, Jim—Jim Brady Trio
Casto, Gary—Tribute Qt
Fowler, Scott—Legacy Five
Helwig, Michael—Blackwood Brothers
Hopper, Dean—Hoppers
Inman, Clayton—Triumphant Qt
Rice, Arthur—Kingdom Heirs
Shivers, Bill—Brian Free & Assurance
Wolfe, Gerald—Greater Vision
Baritone
Griffin, Rodney—Greater Vision
Harris, Loren—Kingdom Heirs
Howard, Scott—Legacy Five
Inman, Scott—Triumphant Qt
Lancaster, Paul—Booth Brothers
LeFevre, Mike—LeFevre Qt
Riley, Daniel—Gold City
Rogers, Mike—Brian Free & Assurance
Singletary, Josh—Tribute Qt
Trammell, Mark—Mark Trammell Qt
Bass
Bennett, Eric—Triumphant Qt
Byrd, Randy—Mark Trammell Qt
Chapman, Jeff—Kingdom Heirs
Duncan, Tim—Canton Junction
Davis, Anthony—Tribute Qt
Fouch, Matt—Legacy Five
Harkey, Paul—Ernie Haase & Signature Sound
Owens, Butch—Blackwood Brothers
Reese, Ray Dean—Kingsmen
West, Chris—Gold City
Band
Dixie Echoes Band
Hoppers Band
Inspirations Band
Isaacs Band
Jason Crabb Band
Jeff & Sheri Easter Band
Kingdom Heirs Band
McKameys Band
Primitive Qt Band
Southern Raised Band
Soloist
Barker, Pat
Bishop, Mark
Crabb, Jason
English, Michael
Habedank, Joseph
Ladd, Steve
Mote, Gordon
Parker, Ivan
Parsons, Squire
Penrod, Guy
Trio
11th Hour
Booth Brothers
Brian Free & Assurance
Bowling Family
Greater Vision
Guardians
Hyssongs
Jim Brady Trio
Talleys
Whisnants
Mixed Group
Browders
Collingsworth Family
Erwins
Hoppers
Isaacs
Karen Peck & New River
McKameys
Mylon Hayes Family
Nelons
Perrys
Traditional Quartet
Blackwood Brothers
Ernie Haase & Signature Sound
Gold City
Kingdom Heirs
Kingsmen
LeFevre Qt
Legacy Five
Mark Trammell Qt
Tribute Qt
Triumphant Qt
Album
Between Here & Heaven— Booth Brothers
Faith & Family—Hyssongs
Full Sail— Mark Trammell Qt
Here For You— Tribute Qt
In The Hands Of A Carpenter—Legacy Five
Life Is Good— Hoppers
Live From The Smokies— Wilburn & Wilburn
Live Like We're Redeemed—Brian Free & Assurance
Nature's Symphony In 432—Isaacs
Promises— Jim Brady Trio
Song
Calling—Karen Peck & New River
He Does— Greater Vision
I Love You This Much— Whisnants
If We Ever Gotta Look— Hoppers
It's What He's Done—Wilburn & Wilburn
Living In The Promised Land—Triumphant Qt
My Father's House—Nelons
Never Forsaken—Tribute Qt
Somebody's Miracle—Brian Free & Assurance
Still— Legacy Five
Favorite Artist
Booth Brothers
Collingsworth Family
Greater Vision
Hoppers
Karen Peck & New River
Kingdom Heirs
Legacy Five
Mark Trammell Qt
Tribute Qt
Triumphant Qt
These were announced in the previously on Singing News Radio. We will update the list as quickly as possible during the show. Tune in to Singing News Radio today between 2pm - 6pm CENTRAL and join in the excitement.