Listen To Solid Gospel LIVE 24/7!
If you want to enjoy your favorite Southern Gospel artists and songs every day, at any time of the day, Solid Gospel offers you two ways to do that absolutely FREE!
Listen in your browser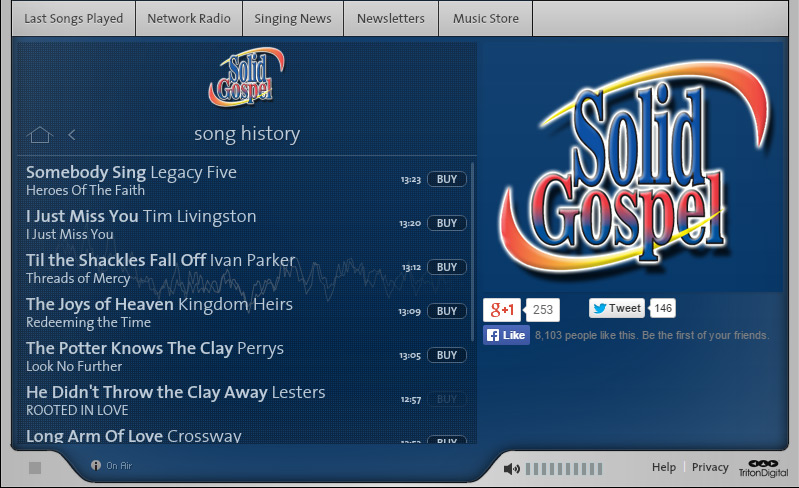 You can listen from any web browser by going to www.solidgospel.com and clicking on the "Listen Live!" button at the top of every page, or right below the name of the on-air DJ shown in the right column.
You'll be given the ability to see who is currently playing, along with a list of the most recent songs played, and even the ability to purchase the songs you love!
NOTE: The browser-based Listen Live player requires Flash to be installed(most computers have this already), and as a result, this player will not work on most smartphones and tablets. See below for a better solution!
Listen on your smartphone or tablet
Take your favorite Southern Gospel music on the road by loading up our FREE apps from your chosen app store!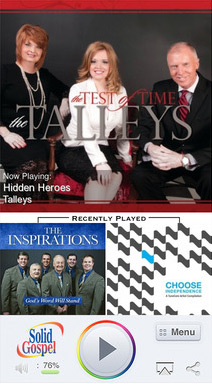 Our mobile apps have loads of features to make your listening experience even more enjoyable. In addition to being able to listen LIVE 24/7, our app also features:
List of recently played songs
Up to date station and local news
Wake up to your favorite music with our unique alarm clock functionality
Social media integration
And much more!
Just search for "Solid Gospel" in the iTunes App Store, the Google Play store(Android) or the Blackberry App Store to download our app straight to your phone, or see the links below.
CLICK HERE to see more information on the Apple iTunes app for Solid Gospel
CLICK HERE to see more information on the Google Play(Android) app for Solid Gospel
CLICK HERE to see more information on the Blackberry app for Solid Gospel
---