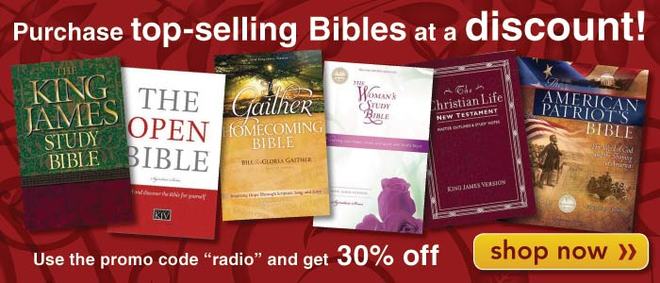 | | |
| --- | --- |
| A New Testament Bible to help you grow in the Spirit and access biblical truth for life's questions—on the go! Small enough to fit in a pocket or handbag yet filled with helpful outlines and study notes, The Christian Life New Testament is a great way to keep God's Word close at hand. Whether exploring on your own or sharing with others, the tools in this valuable resource will give you confidence and understanding in what it means to be a follower of Christ. | The Gaither Homecoming Bible will make the Bible come alive for those seeking truth in the twenty-first century, even for those who think they already know it. For years, Bill and Gloria Gaither have reached millions of people across generations with the Good News of Jesus Christ. Featuring inspirational and insightful Scripture devotions by the Gaithers and other favorite Homecoming artists, this beautiful Bible is one that readers will treasure for years to come. |
| The most comprehensive King James Version study Bible published in 50 years. The King James Study Bible has more than 2,000 pages packed with thousands of notes and commentaries from respected conservative scholars. More than 5,700 annotations, including doctrinal footnotes, dozens of maps and comprehensive introductions to every book, in a unique format offer a broad understanding of the Bible and how it relates to the world we live in today. | The Woman's Study Bible is a priceless treasure, poignantly revealing the Word of God to a woman's heart. With special notes and features appealing to women's interests, highlighting women throught Scripture, and capturing the unique ways Christ cared for women, this Bible truly speaks to a woman's heart. Available in the King James Version (KJV) for the first time, The Woman's Study Bible is more relevant to today's women than ever before! |
| The study Bible that gets you quickly and fully into the Word. Find what you need! The Open Bible, King James Version is designed for the hungry reader. This Bible is filled with amazing study aids including comprehensive book introductions and outlines, 64-page concordance, Read-Along references and translation notes, and the classic Biblical Cyclopedic Index covering more than 8,000 textual entries. This outstanding Bible is available in hardcover and bonded leather. | THE ONE BIBLE THAT SHOWS HOW 'A LIGHT FROM ABOVE' SHAPED OUR NATION. Never has a version of the Bible targeted the spiritual needs of those who love our country more than The American Patriot's Bible. This extremely unique Bible shows how the history of the United States connects the people and events of the Bible to our lives in a modern world. The story of the United States is wonderfully woven into the teachings of the Bible and includes a beautiful full-color family record section, memorable images from our nation's history and hundreds of enlightening articles which complement the historic King James Version Bible text. |
*Remember to use the promo code "radio" at checkout for your 30% discount!