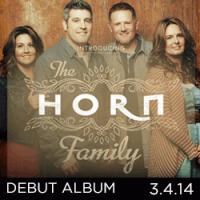 The Horn Family Debut Album To Be Released On March 4th
By
Horn Family
Tuesday, March 4, 2014
(Sponsored Content*)

It seems almost a given that Joel and Jamie Horn would make a career in Southern Gospel Music. As preacher's sons raised on the tunes of legendary gospel families like The Hinsons, Paynes and Crabbs, the pair spent the brunt of their childhood learning guitar and piano at their father's Loggy Bottom Pentecostal Church, nestled in the hills of tiny Whitewood, Virginia. With Joel singing lead and playing piano, and Jamie on drums, the Horns literally grew up on stage, performing every local benefit, church concert and revival within a 10-mile radius of Whitewood. With adulthood came an expansion of the band into its current formation. In 2000 The Horn Family expanded the group with the addition of Joel and Jamie's wives, Tina and Tracey, that colored the Horns music with their outstanding harmonies. Blending Country with Contemporary Gospel and offering occasional traditional gospel moments, the Horn's have spent the past decade traveling and playing hundreds of concerts throughout the Southeast. The self-titled project was recorded in Nashville and produced by the prolific country artist and songwriter Mark Collie. The Horn Family Album will be released on March 4th, 2014 and available across digital and physical formats.
www.facebook.com/thehornfamily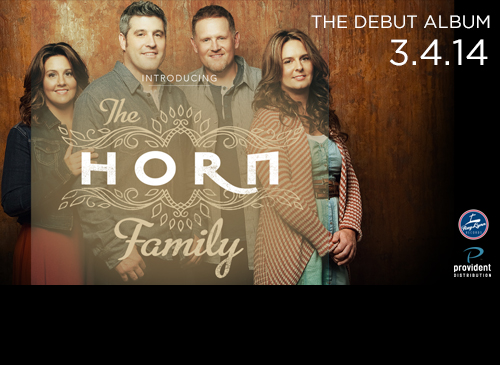 *Sponsored content- no endorsement should be assumed or implied by Singing News or Solid Gospel, and this item has been paid for by the advertiser.