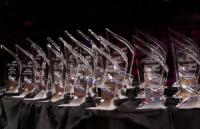 Watch The 2013 Singing News Fan Awards LIVE AND FREE!
By
Staff
Friday, September 27, 2013
The 2013 Singing News Fan Awards & SGMA Hall Of Fame Induction Ceremony is set to take place in just a few days, on October 2nd from Dollywood in the heart of Pigeon Forge, TN. The readers of Singing News Magazine have once again chosen their favorites, which will be revealed live from the D.P. Celebrity Theater inside the park starting at 3pm Eastern. And all your favorite Southern Gospel artists will be there to see the Southern Gospel Industry's PREMIERE fan-voted awards show.
Today, we're happy to announce that if you weren't able to purchase tickets to the show and be there in person, you will be able to watch the entire show for free on your computer, LIVE as it happens! Dollywood is once again providing this stream to readers and fans at no cost. You will be able to see all the performances, all the awards and all the Hall Of Fame Inductions.
For more information on the show, and to access the LIVE Stream once it's ready, please be watching www.singingnews.com/fanawards where we'll give you all the details in the coming days!
In addition, you can follow all the winners as they are announced on our Facebook page at www.facebook.com/singingnews, or on our Singing News Fan Awards page at www.singingnews.com/fanawards. You can also catch our special LIVE Red Carpet event leading up to the show on the Solid Gospel Radio Network at www.solidgospel.com, starting at 2pm Eastern. Then at 4pm Eastern, Solid Gospel will be broadcasting the show on a one hour delay as well.
NOTE: The FREE stream is being provided as a service by Dollywood. No guarantees of any kind are given that the show will run on your system, or that technical difficulties won't occur. In the case that we do encounter difficulties, we have plans of rebroadcasting the entire show in the days after the event for free on our website.