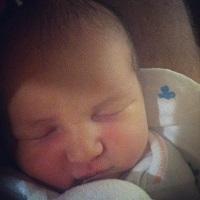 Chris And Noel Unthank Welcome Their First Child, Canaan, Into The World
By
Chris and Noel Unthank
Thursday, September 19, 2013
MURFREESBORO, Tenn. - (September 18, 2013) - Southern Gospel Music Executive, Chris Unthank with his wife Noel are proud to announce the birth of their son - Canaan Deon Unthank.
Canaan was born on Tuesday, September 10, 2013. He weighed in at 8 lbs and was 20 inches long. Canaan is the Unthanks' first child. Mother and Baby Unthank are resting well at the family's home in Murfreesboro, Tennessee.
Chris and Noel are no strangers to the Southern Gospel music community. As publishers, along with songwriting and group experience, they welcome Canaan into an active Southern Gospel family. Noel is the daughter of Brenda and songwriter Johnny Lowrance ("Mender of Broken Wings") and the secretary at Turning Point Church in Murfreesboro, Tennessee where her father is the pastor.
Canaan is also the sixth grandchild of Deon Unthank, who said "I am so excited, because while Canaan is my sixth Grandchild, he is the first one who lives close to me and I can hold, and spoil and aggravate him. When I first held him he cooed on pitch in the Tenor range."