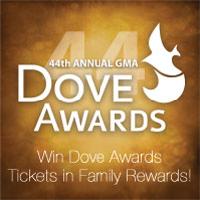 Win Tickets To The 2013 GMA Dove Awards, Sponsored By Solid Gospel!
By
Solid Gospel
Friday, August 9, 2013
The 44th Annual GMA Dove Awards is just around the corner, taking place on October 15th. This year, the Christian music industry's largest awards show is returning to Nashville, TN and will be held at the Allen Arena on the campus of Lipscomb University.
We're proud to announce that Solid Gospel will be sponsoring this year's show, and will be there to cover the festivities, including the announcement of the nominees on August 21st. We'll have more information on this soon.
In addition, you have the opportunity to WIN tickets to the show for FREE through Solid Gospel Rewards! Just go to www.solidgospel.com and click on the Solid Gospel Rewards banner at the top of the page. You can sign up for FREE if you haven't already, and you can use your points(that you get by doing things you already do- listening to Southern Gospel music!) to purchase tickets to the show.