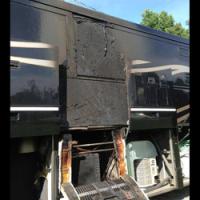 Down East Boys Suffer Bus Fire
By
Down East Boys
Sunday, August 4, 2013
On the evening of July 31, the Down East Boys came out to find that their bus had caught on fire, causing massive loss of property. From their Facebook page:
"Well to let everyone know we had a bus fire last night. Glad to say we had not left yet. Lost part of sound equipment, clothes inside. Bus looks to be total loss. Thanks to all who have sent messages on Facebook, text, and calls. We had to postpone our Friday date but will be able to finish our weekend. Lots to handle now. Will try to keep y'all posted as often as possible. Thanks again for all the prayers and support!"
Please pray for the group as they recover from these losses.