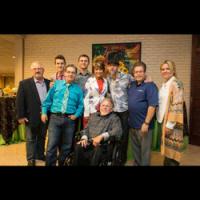 Browders Celebrate #1 At Their CD Release Party
By
AG Publicity
Thursday, August 8, 2013
Nashville, TN (August 7, 2013) The Browders celebrated three number one hits on the Singing News Charts with a party at BMI attended by numerous industry and media personnel, including representatives from Solid Gospel Radio, Singing News, Homecoming Magazine, Daywind Records, AbsolutelyGospel.com and Broadcasting and Digital Media Corp.
Daywind President, Ed Leonard, told the guests, "Daywind is excited to have the Browders as our newest artist and proud to help them celebrate all their number 1 songs and top ten hits from their last album 'The Message'."
Matthew Browder commented, "What a year this has been, and it is not even over yet. While we do not travel and sing for awards and #1 songs, we appreciate the acknowledgment from fans and the radio DJs who chart our songs. If these #1 songs and awards help us reach more people with the message of the Gospel, then we gladly accept them."