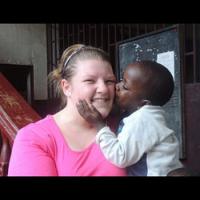 Elena Dubbeld of the Mark Dubbeld Family Returns From Cameroon, West Africa
Monday, July 29, 2013
Moneta, VA (July 29, 2013) - In the midst of some very exciting times for the her family group, Elena Dubbeld, of the Mark Dubbeld Family, returned from a life changing mission trip in Cameroon, West Africa. In Cameroon, Elena was privileged to work for three weeks in an orphanage and travel "around the mountain" to a village where the missionaries had been invited to come by its chief. While she experienced "roughing it" in many ways, Elena says, "It was definitely worth it. It was an eye opening experience, and God was faithful."
The children loved lots of hugs and kisses, which Elena was willing to give. Working with Victor and Claudine Chamberlin, of Evangelical Bible Mission a lock in with teen girls and a Vacation Bible School were also a part of her trip.
Even though returning "home" means joining her family on the road Elena says, "Wherever my family is, that's home."
Dad, Mark Dubbeld stated "While we missed Elena the three weeks she was gone, we knew that experiencing life on a true mission field would change her life forever."