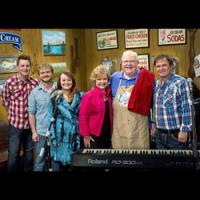 Jeff & Sheri Easter To Appear On RFD-TV's "Larry's Country Diner"
By
Spring Hill Music Group
Wednesday, July 17, 2013
NASHVILLE, Tenn.-July 16, 2013— Jeff & Sheri Easter, of Lincolnton, GA, will make their debut appearance on RFD-TV's "Larry's Country Diner." The show will air as part of the all-new series of this popular tv program on Saturday, July 20th, at 10:00 p.m. CDT / 11:00 p.m. EDT and on Sunday, July 21st, at 6:00 p.m. CDT / 7:00 p.m. EDT.

"We love what Larry does at the diner and have been watching the show for some time," described Sheri. "The setting and atmosphere feel like home to us being from a very small, country town. When we first saw the show, we instantly related to its talent and entertaining blend of humor, music and meaning; so we were thrilled to get our own place at the table, so to speak, for the first time."

Jeff and Sheri, their daughter, Morgan, their son, Madison, and percussionist Landan Smith performed "I Know How It Feels to Survive" and "Sitting on Top of the World," both from Jeff & Sheri's current studio recording Eyes Wide Open (Spring Hill Music Group). In addition, the studio audience enjoyed the group's performances of gospel classics "Workin' on a Road" and "Thank You, Lord, for Your Blessings on Me."