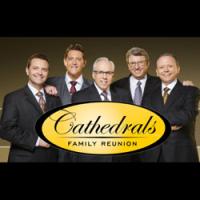 Exclusive On-Air Interview With Former Cathedrals Members, This Monday, June 24th At 1PM Central!
By
Staff
Friday, June 21, 2013
You've probably heard about the upcoming "Cathedrals Family Reunion" event scheduled for Fort Worth, TX in November. This Monday, June 24th, Solid Gospel's Greg Goodman will host former Cathedrals members, Ernie Hasse and Gerald Wolfe along with Wayne Haun, who is helping select and arrange the songs that will be done, and Landon Beane from IMC Concerts that is putting on the event. This interview is Monday at 1pm central on Solid Gospel! There will be great Cathedrals stories along with new details about a project that will come out of this and even how folks could win a chance to be a part of this group at the event!
Make sure you are with us 1pm central this Monday!