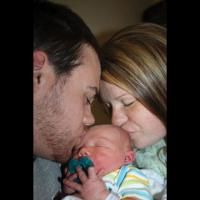 Canaan's Crossing Member Gets An Early Father's Day Gift
By
Tim Maze
Monday, June 17, 2013
Arab, AL - Canaan's Crossing member, Drew Long, received an early Father's Day gift on Thursday, June 13, 2013. Drew and his wife, Kristen, welcomed their first child, Sawyer O'Neill Long.
Sunday was not only Drew's first Father's Day as a dad, it was also his 22nd birthday.
Congratulations to the Long Family.