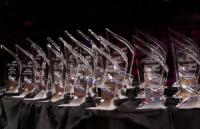 FINAL Round Of Voting In The 2013 Singing News Fan Awards Is NOW OPEN!
By
Staff
Monday, June 17, 2013
The Singing News Fan Awards is the Southern Gospel industry's premiere awards show, and features winners chosen directly by the readers of the Singing News Magazine.The celebrated Singing News Fan Awards and the Southern Gospel Music Association's prestigious Hall of Fame inductions will be presented together on October 2, 2013. The celebration will take place in the DP Celebrity Theatre at Dollywood, located in Pigeon Forge, Tennessee. Call the SGMA at (865) 908-4040 for information and tickets.
We're happy to announce that the third and FINAL round of voting for this year's awards is NOW OPEN, where you can vote for your top choice from the top five nominees chosen from the first two rounds of voting! If you are a Singing News Magazine subscriber, you can go to www.singingnews.com/fanawards and clicking on the "CLICK HERE TO VOTE NOW" button. If you are an iPad subscriber, you will need to call our Customer Service department first at 1-800-527-5226 and they will assist you.
Third round ballots MUST be received by July 12, 2013 to be counted.
To vote in the each round, you must be a subscriber of the Singing News Magazine. If you are not a Singing News Magazine subscriber, but would like to vote for your favorites, you can subscribe by clicking here.