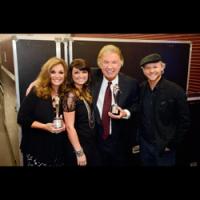 Nelons Honored With 2013 People's Choice Silver Telly Award
By
Judy Nelon Group
Friday, May 31, 2013
May 31, 2013 (Nashville, TN) - The Telly Awards has named The Nelons as a Silver Telly winner in the 34th Annual Telly Awards for the music video for "Excuse Me, Are You Jesus?" With nearly 12,000 entries from all 50 states and 5 continents, the project won the Silver Telly in the Internet/Online Video-Music Video category.
The true-to-life story, put to song by legendary Christian music icons Bill & Gloria Gaither and Country music superstar Larry Gatlin tells the story of a man who makes a startling revelation upon missing his home-bound flight. Point Light Pictures, LLC was brought to the task of making the story come to life. "Point Light Pictures did an amazing job visually telling the story that Bill & Gloria Gaither and Larry Gatlin so eloquently put to music," stated Kelly Nelon Clark. "This award is an honor and we are grateful to those who voted for the video."
"It is always a joy to work with the Nelons and I'm grateful to be part of their journey, " said Bill Gaither "Co-writing the song 'Excuse Me, Are You Jesus?' with my wife, Gloria, and our dear friend Larry Gatlin, then co-producing the Nelons album on which the song was included, was an honor. "
The Telly Awards program was founded in 1979 and is the premier award honoring outstanding local, regional, and cable TV commercials and programs, the finest video and film productions, and online commercials, video and films. Winners represent the best work of the most respected advertising agencies, production companies, television stations, cable operators, and corporate video departments in the world.