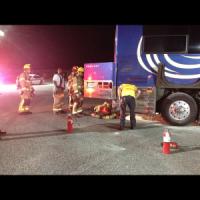 Gold City Suffers Bus Fire
By
Barbara Huffman
Saturday, May 25, 2013
Around 12:00 a.m., Saturday, May 25, Gold City suffered a major fire in the engine compartment of their Prevost motorcoach. They had stopped at a convenience store and some of the group had gone inside, when the others smelled smoke. Fire and rescue personnel arrived on the scene to deal with the fire, as well as some minor personal injuries that occurred when a fire extinguisher malfunctioned, causing injury to Tim Riley's leg. He was treated on the scene by EMT personnel.
Gold City has made travel arrangements for the rest of the weekend, and as of now all dates will be kept on schedule as planned. It is uncertain whether insurance will cover the damages and losses, of which the extent and amount are undetermined at the present time. In addition, there are already considerable non-covered expenses and deductibles that have started to add up. For those who would like to help the group with these unexpected financial needs, any contributions would be greatly appreciated and can be sent to Gold City at PO Box 2100, Gadsden, AL 35903. Updates will be released as more details become available.
Please keep Gold City in your prayers this weekend as they work through this challenging time. They would ask that you pray for all their fellow gospel artist friends as they travel, that God would keep his hand of protection on all of them, especially this holiday weekend with heavy travel on the highways.