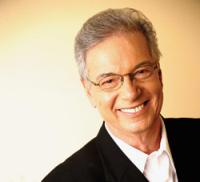 Ray Dean Reese Health Update
By
SN/Kingsmen
Monday, May 6, 2013
On August 17, 2011, Ray Reese of The Kingsmen Quartet announced that he was diagnosed with prostate cancer. In October of 2011, Ray underwent surgery for the cancer and shortly thereafter began treatments.
As of March of this year, Ray was scheduled to begin radiation treatments. But after consulting with his doctor regarding his treatment schedule, they informed him that due to his recent test results, he is now in remission and no further treatments are necessary.
Ray states, "First of all, I would like to thank God for His healing touch. Also, I say a special thank you to friends all over the world for praying for me during this time. We always pray for God's will to be done in our lives. I will continue to have scheduled check-ups, the next of which is scheduled for June 2013. I am fully trusting and believing that there will continue to be no signs of cancer. Please continue to keep me in your prayers as I go forward."
Ray also states that he is very thankful to have been able to continue his travel schedule with The Kingsmen and is looking forward to carrying on in the future without any interruption.
Be watching singingnews.com and kingsmenquartet.com for future updates regarding Ray Reese and The Kingsmen.