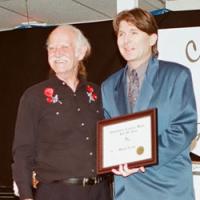 Randall Franks Receives Independent Country Music Hall of Fame Induction
By
Randall Franks
Tuesday, April 30, 2013
Southern Gospel Music Association publicist, Randall Franks, former member of the Marksmen Quartet, and first ever fiddle player for Jeff & Sheri Easter, has been nominated into the Independent Country Music Hall of Fame.
Franks was inducted alongside several industry friends including Leona Williams, Razzy Bailey, Jean Shepherd, Jimmy C. Newman, the late Billie Jo Spears, Glenn Douglas Tubb, Jerry and Helen Burke, Leslie Elliott, Jim Lusk, Phyllis Cole and the late Johnny Carson.
Franks accepted the induction on behalf of those who he said invested in his life and encouraged him along his path. Hall of Fame member Jerry Cramer presented Franks the award as he also expressed his appreciation to the nominating committee for his induction; "It is especially such an honor to join such an illustrious class of inductees filled with so many whose work I have admired through my career as well as many who are my friends," he said.
Franks has also seen success as an actor, with roles such as "Officer Randy Goode" from TV's "In the Heat of the Night," a role he performed on NBC and CBS from 1988-1993. He also starred with Robert Townsend in his series "Musical Theater of Hope" which aired on GMC-TV in 2009, along with 14 films alongside popular names such as Dolly Parton and legendary western star, "Doc" Tommy Scott.
The Independent Country Music Hall of Fame Awards was established in 1996 to recognize those independent recording artists, songwriters, producers and country music industry business people who deserve recognition for their important roles within the country music family. For more information, visit http://www.independentcountrymusichalloffame.com.