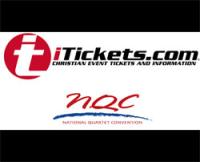 iTickets.com Selected As National Quartet Convention Official Event Admissions Agency
By
Judy Nelon Group
Tuesday, April 23, 2013
NASHVILLE, TN - April 15, 2013 - The National Quartet Convention officially announced the selection of iTickets as their event admissions partner.
This year marks the 56th Annual National Quartet Convention. The Convention has made its home in the city of Louisville since 1994. Approximately 40,000 people will attend the 2013 event, which takes place September 8-14, with at least 40 states and a half dozen foreign countries represented. The Convention is Christian music's largest marketplace and largest annual event with more than 500 exhibitors and nearly 300 Southern Gospel recording artists in attendance.
"iTickets has become the gold standard when it comes to providing admissions services for Christian events, and the NQC is delighted to have them as our partner going forward as we conclude our 20th convention in Louisville and make the move to our new home in Pigeon Forge for 2014, " stated Clarke Beasley, Executive Vice President of the NQC. "I know our customers will receive outstanding service with iTickets taking care of them."
"We are truly honored to be asked to provide this service for NQC," said Ed Novak, president of iTickets. "I can remember my first NQC about 20 years ago and realizing what a special opportunity it was for fans and artists to intermingle, tell stories, and have fun over the course of six days while enjoying daily concerts. We look forward to working with both NQC and their fans."