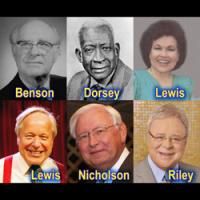 SGMA Class of 2013 Hall of Fame Inductees Announced
By
SGMA
Friday, April 19, 2013
(Pigeon Forge, TN) - The Southern Gospel Music Association's (SGMA) Induction Committee Chairman, Dr. Jim Goff, announced today the 2013 Inductees to the SGMA Hall of Fame.
They are, in the deceased category, John T. Benson, Jr. and Thomas A. Dorsey.
In the living category, Polly Lewis Copsey, "Little" Roy Lewis, Duane Nicholson and Tim Riley.
The 2013 Induction Ceremony and Singing News Fan Awards will be held on October 2nd at Dollywood in Pigeon Forge, TN. Tickets for the event are on sale now at the SGMA office. You may purchase tickets by calling 865-908-4040. Visit www.sgma.org.