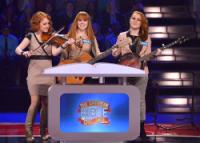 Vote For The Red Roots In American Bible Challenge "Fan Favorite" Contest- Help Their Charity, "Home Of Grace"!
By
Daywind
Friday, April 19, 2013
HENDERSONVILLE, TN (April 18, 2013) - The American Bible Challenge, hosted by Jeff Foxworthy on GSN, announced that the show will be awarding an additional $10,000 to the favorite charity of the team that receives the most votes as Fan Favorite. Red Hen recording artist, Red Roots, fresh off their recent appearance on the show, is competing for Home of Grace, a leading Christian, faith-based drug and alcohol recovery program for men and women in Gautier and Vancleave, Mississippi.
Red Roots is urging fans to log on to http://gsntv.com/shows/the-american-bible-challenge/fan-favorite/. Fans are allowed to vote once per day beginning immediately and lasting until midnight on Sunday, May 19. The team with the most votes will be revealed during The American Bible Challenge season finale on Thursday, May 23, 2013, at 9/8 cst.