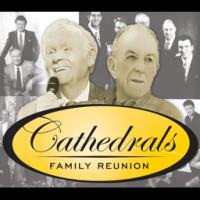 IMC Concerts Announces Cathedrals Family Reunion Concerts- Full Announcement Video!
By
IMC Concerts
Tuesday, April 16, 2013
Disable Paging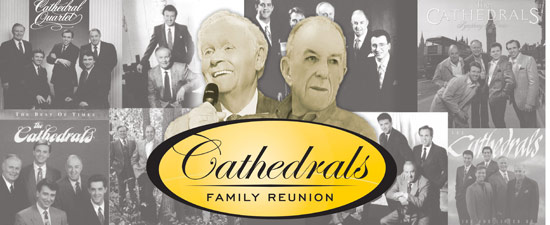 From LANDON BEENE the President and CEO of IMC.
Partnering together with Brian Hudson of Showcase Management, the team at IMC Management and Concerts is THRILLED TO ANNOUNCE plans for the "Cathedrals Family Reunion" Event scheduled for the fall of 2013. You can watch the full press conference announcement video below(read below the video for another special announcement from Singing News!):
Singing News is proud to have been a part of this announcement, and we have captured much more video for you to see. Be watching Singing News TV for EXCLUSIVE behind the scenes video content WEEKLY!
---
Full transcript of the announcement:
The Cathedral Quartet was the most loved and most popular Gospel Quartet of their generation and their legacy lives on with some of today's most popular Gospel Artists. Scott Fowler, Danny Funderburk, Ernie Haase, Mark Trammell, and Gerald Wolfe travelled with the Cathedrals during the height of their popularity.
Now, for the first time in almost two decades, these Artists come together for an unforgettable event, reliving the music and memories from the "Golden Age" of the Cathedrals.
When searching for a home for this event, it didn't take long to realize the significance of Texas in regards to shape note and quartet style music. The home of this event will be FORT WORTH, TX! This central location will draw Cathedrals Quartet lovers from all over with it's convenient location as we all come together to relive and celebrate this legendary, iconic group which has touched so many lives over the years!
The Southwestern Baptist Theological Seminary will play host to this event in their brand new 3500 seat "MacGorman Performing Arts Center"! The people of Fort Worth and the Seminary are VERY exited about this event!
The dates for the CATHEDRALS FAMILY REUNION event are Nov 8th and 9th, 2013, including 3 unique sessions plus several exciting extra activities all themed around the Cathedral Quartet! Registrations for this event will begin on Monday, June 3rd at 10:00 AM EST.
Attendees will get to experience the sounds of the current groups represented from the Cathedrals Alumni such as Greater Vision, Ernie Haase & Signature Sound, Legacy Five and Mark Trammell Quartet as well as several "reunion moments" on every unique session of the event.
There will be several surprises and activities for the attendees but I can tell you a few things: In addition to the great reunion concert sessions, we will have memorabilia of the Cathedral Quartet on display, a time of question and answers with the guys, as well as a chance to see and tour bus of the Cathedrals known as the "Silhouette" at the event, parked outside just like fans would see at a Cathedral Quartet concert. Not only will it be on display but you'll have the opportunity to tour this bus that Glen and George traveled MILLIONS of miles in!
It has been a personal dream of mine, as well as all of you, to see all of these guys, as well as their current groups participate in a reunion style event once again since that unforgettable night when the Cathedrals said "goodbye" in 1999. Now, because of these gentlemen sitting here and their support... This dream will become a reality.
For further information, you can visit any of the groups' websites, social media pages and also at the website www.CATHEDRALFAMILYREUNION.COM