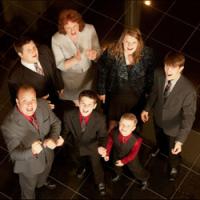 Mansion Entertainment Signs the Mark Dubbeld Family to Mansion Records
By
Mansion Entertainment
Wednesday, April 10, 2013
Franklin, TN (April 9th 2013) -- Mansion Entertainment, a Franklin, TN based Christian Music Company, has signed the Mark Dubbeld Family to its Mansion Records division. The Mark Dubbeld Family have already had many recent successes with their release on Manor House Records titled, "On with the Praise".
Bill Traylor, President of Mansion Entertainment, states, "Mark, Janene and all the Dubbelds are some of the finest and most talented people I have met. It is an honor and major opportunity to work with such gifted people that present the message of the Gospel is such a clear and professional manner. Janene's writing is incredible and Mark's leadership in vocals stands out as one of the best I've experienced. We look forward to offering this new Mansion Records release. It will be a blessing to all".
Mark Dubbeld, continues, "We have enjoyed working with Bill Traylor, and all the Mansion Entertainment team to grow our ministry. It has taken lots of hard work, prayer, and God's blessing but now we are seeing the fruits of our labor. We are excited about the progress, branding, and the doors that are opening for The Mark Dubbeld Family."