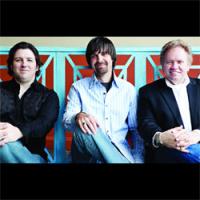 Three Bridges To Appear On Daystar's "Gospel Music Showcase"
By
Mansion Entertainment
Wednesday, March 27, 2013
Franklin, TN (March 26th 2013) - Mansion Entertainment is proud to announce that Three Bridges will be featured on DayStar's popular program, Gospel Music Showcase.
Three Bridges joins the ranks of other notable Southern Gospel Artists who have appeared on the Gospel Music Showcase, such as, Ernie Haase and Signature Sound, Greater Vision, The Isaacs, and Jason Crabb. Gospel Music Showcase is hosted by Guy Penrod, and includes exclusive interviews and live performances.
Bill Traylor, President of Mansion Entertainment, states, "DayStar is a major leader in Christian Television Programming and the time and production quality they put into 'Gospel Music Showcase' is extraordinary. Guy is a talented host and we are so pleased that they have provided the opportunity to Three Bridges to exhibit their ministry to Daystar's audience of over 102 million households across America."
Three Bridges' episode will air this Saturday, March 30th, at 5:30 PM EST. For further details and promo spots please visit www.daystar.com/gms.