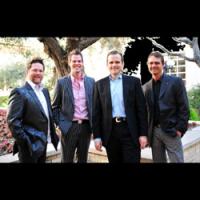 Canton Junction Announces Addition Of Shane McConnell
By
Difference Media
Wednesday, March 27, 2013
NASHVILLE, Tenn.—Difference Media recording artist, Canton Junction announced the addition of celebrated vocalist Shane McConnell to its lineup. McConnell joins Matthew Hagee, Aaron Crabb and Tim Duncan, to round out the quartet.

"Shane is a remarkably talented and incredibly gracious individual, who greatly complements the idea that Canton Junction is where good things come together," said Matthew Hagee, who also serves as executive pastor of Cornerstone Church. "We are extremely blessed to have him and look forward to what the future holds for Canton Junction."

"I've enjoyed all the opportunities I've had in the studio through the years, but now as a member of Canton Junction, I'm especially looking forward to being able to interact with live audiences," McConnell said. "I've always loved quartet harmonies, but I also have a heart for praise & worship, so Canton Junction seems like a great home for me. I believe it's going to be a fun journey!"

McConnell has previously performed on recordings by Garth Brooks, Wynonna, Kenny Rogers, Steve Green, Sandi Patty, Andy Griffith and Bill Gaither, among many others. In addition, his voice has been heard on recordings for Walt Disney World and SeaWorld. Since 2006, he has been part of the Gaither Homecoming family, performing on Homecoming videos, live events and studio projects.