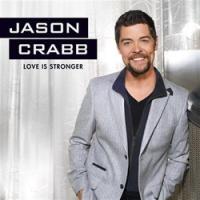 Latest Release From Jason Crabb, "Love Is Stronger", Sees Major Mainstream Coverage
By
Judy Nelon Group
Friday, March 22, 2013
March 19, 2013 - (NASHVILLE, TN) GRAMMY and Dove Award-winning vocalist, Jason Crabb, is seeing widespread praise from major media outlets with his latest release, "Love Is Stronger". This is great news for Jason, and for Southern Gospel music. The second studio release from 17-time Dove Award-winning vocalist has garnered attention from outlets such as CCM Magazine, Entertainment Tonight, Associated Press and Fox News, among others.
Additionally, the release was highlighted by iTunes - the largest distributor of digital music - as a "New & Noteworthy Release" on the main iTunes page as well as Christian & Gospel page. iTunes selects these spots for releases they deem to be be significant additions to the musical landscape. AOL Music also turned their spotlight onto the project by hosting an AOL Music Listening Party where listeners could stream the entire CD for free during release week.
Produced by a trio of musical heavyweights - Jay DeMarcus (Rascal Flatts), Ed Cash (Chris Tomlin), Wayne Haun (Jessica Simpson, Celine Dion) - the project has received amazing support among reviewers and music fans alike. "I've been blown away with how warmly this new music has been embraced," said Crabb. "I am so proud of this project and my prayer is that the music would touch the listener and give them encouragement."
Here are some examples of the coverage the album is seeing through various media outlets:
"Grammy-winning Christian singer Jason Crabb impressively drives home the theme of how genuine love can be even if there's heartache and grief. His soaring voice, lyrics of enduring faith and solid production on the 11-track set continue to prove why he is the Gospel Music Association's reigning male vocalist and artist of the year." - Associated Press
"Love is Stronger is a breakthrough album that will thrust Jason Crabb into a bright spotlight...Jason uses tremendous vocal control as he slides effortlessly from soft, tender notes to full-on power belting... Kari Jobe joins her voice with Jason's on "Love Wins." The song defies categorization and should reach and bolster many.... This (album) has huge potential to expand Crabb's audience...Packed from start to finish with strong songs, versatile vocal performances, and an abundance of energy and emotion, this album is not limited to a single musical category...A gem of a record" - New Release Tuesday
"Few artists on today's musical landscape possess Jason Crabb's ability to move effortlessly from one musical style to another, erasing boundaries between country, pop and gospel with the smooth, rich voice that has made him a Grammy winner and the Gospel Music Association's reigning Male Vocalist and Artist of the Year" - AOL's The Boot
"No corn fluff to be found here…rich interpretations of positive lyric themes are set against solid arrangements…Crabb's soulful tone weaves through this record… An eleven-track gem." - Music News New York
"Jason Crabb's new album (Love Is Stronger) is impressive." - Huffington Post
"One of the most anticipated releases of 2013...He is definitely one of the most talented vocalists out there. Love Is Stronger is definitely one of the best albums of 2013." - Christian Music Review
"…One of the most talented artists this industry we call CCM has ever seen…Spine-tingling artistry...Each moment of the new album is emotive and beyond the confines of any one genre…" - CCM Magazine
"One of the most gifted vocalists to rise in popularity the past decade...A collection of strong tunes...Brilliant vocal showcases." - Roughstock
"Crabb has never been more himself: he shows a greater command over his vocals and he has never sounded more passionate…This CD really brings out the new man in Crabb - one who is confident when he rocks and yet provides the heart pabulum when he croons." - Breathecast
"…Truly magical…Powerful, Jason's delivery is heartfelt and flawless…" - Absolutely Gospel
"…Truly fulfilling…One of the strongest gospel albums of this year." - Nashville Country Club