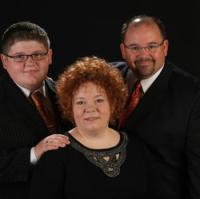 Eric & Laura Ollis Team With Touch The World Ministries
By
Writer's Ink
Thursday, February 21, 2013
Morganton, NC - In late 2011, long-time Southern Gospel pianist Eric Ollis announced plans to embark upon a family ministry with his wife, Laura and sons, Michael and Payton. Eric had spent 20 years playing piano with The Dixie Melody Boys and most recently, The Whisnants, yet felt the call to spend more time with his wife of 18 years, Laura, and their two sons.
Many opportunities have been afforded to the couple and God has used their unique ministry in great ways. Laura shared, "We don't know what that is, but we are simply walking through doors He opens."
One of those "doors" is their recent partnership with Touch The World Ministries, a private, non-profit organization, founded by Rev Homer Murdock, Jr. The organization is dedicated to identifying, recruiting, training, equipping and leading Christian mission teams to assist people across the world who are in need of spiritual and physical aid.
An important aspect of Touch The World Ministries that the Ollis family is extremely excited about is the child sponsorship program offered by TTW. Through the program, individuals and other families can sponsor a child and cover the basic needs of children across the world. "There are many great organizations that assist children in need," Eric explains, "however, we are greatly impressed by the involvement Touch The World provides to children and the fact that 90% of the monthly contribution goes directly to the child. It's an awesome opportunity."