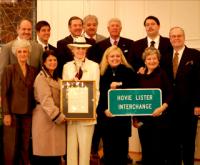 Hovie Lister Interchange Dedicated
By
Charlie Waller
Thursday, February 21, 2013
Greenville, SC - On Sunday, February 17, a dedication ceremony was held at Reedy River Baptist Church to officially announce the naming of the Hovie Lister Interchange, located at Hwy. 25 and 276, just south of Travelers Rest, South Carolina, city limits. Lister organized The Statesmen Quartet in 1948 which became the group that all other quartets would be judged.
Speakers at the event included; retired Greenville County Sheriff, Johnny Mac Brown, South Carolina Senator, Tom Corbin, Greenville County Councilman, Joe Dill and Charlie Waller, Executive Director of theSouthern Gospel Music Association.
Members of Lister's family, including his wife Ethel, son Chip, daughter Lisa, brother Jack and sister Joann were present at the ceremony.