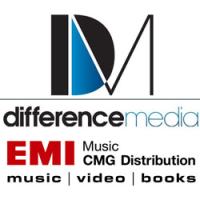 Difference Media And EMI CMG Distribution Announce Long-Term Distribution Agreement
By
Turning Point Media
Tuesday, February 19, 2013
NASHVILLE, Tenn.— Difference Media has signed an exclusive distribution agreement with EMI CMG Distribution. EMI CMG will oversee worldwide retail distribution at both Christian and mainstream outlets, as well as digital distribution, for upcoming releases from the label's roster of artists that includes Aaron & Amanda Crabb, Canton Junction, Matthew Hagee, Tim Duncan, The Cornerstone Sanctuary Choir, John Hagee and The Hagees.

Greg Bays, Senior Vice President of sales and marketing for EMI CMG Distribution said: "Difference Media was founded on a strong tradition of Gospel music and the power of its message. EMI CMG Distribution is pleased to be a part of this ongoing tradition with their artists and inspiring releases. We look forward to expanding Difference Media's impact with this worldwide distribution agreement. "

"We are thrilled to partner with EMI CMG Distribution, and believe it will serve to further the impact of Difference Media and our family of artists," said Matthew Hagee, pastor, Cornerstone Church. "We couldn't be more proud of the releases we have planned for the year, and we are grateful to EMI CMG for helping us make the music more broadly available."