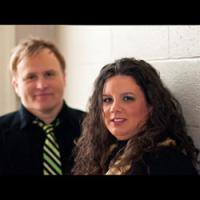 Back Home To Become A Trio
By
AG Publicity
Friday, February 8, 2013
January 8, 2013 (South Pittsburg, TN) Gospel Duo, Back Home has announced a big change effective immediately. After traveling across the country as a Gospel Duet, Back Home will officially become a trio.
Jennifer, Back Home alto singer said, "We have heard for so long that we need to be a trio, but we just never felt that one person ever showed up. Jimmy Layne stated, "After years of looking for the right person to join us, we finally stumbled upon Stacy Pearcy. Not only is she a fantastic singer, but she is in the family. Stacy is Jennifer's cousin."
Stacy will join the group immediately and be full-time in May. She lives in Rainsville, AL with her husband, Rick, and two daughters Hannah and Caitlin. She's a veteran singer.
Jimmy went on to say, "We've been waiting for the right person to come along and Stacy's love of God and heart for ministry matches ours....not to mention how well her vocals blend with ours."