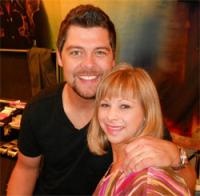 Ashley Demarus Cruises With The Crabb Family
By
AG Publicity
Friday, February 8, 2013
Birmingham, AL (February 7, 2013) From January 21st through January 26th, Ashley Deramus of the Ashley Deramus Foundation For Down-Syndrome and Special Needs Children, sailed the wild sea with the Crabb Family on their annual cruise.
Ashley was performing on Karaoke night as she was joined by none other than Jason Crabb. Ashley sang "Through The Fire" with Jason, and more of The Crabb Family joined in.
Ashley also lead the Pledge of Allegiance in which a large crowd gathered from throughout the ship to join in. Ashley Deramus is is known all over this Nation for giving the Pledge of Allegiance to bring awareness to others with Down-syndrome and Special Needs.
Ashley touched the hearts of many people on the cruise including Pastor Charles McRaney of New Heart Baptist Church in Hattiesburg, Mississippi who said, "It was a fabulous cruise and I met some amazing people. On the last night of the cruise I met a young lady who blessed my heart. Ashley Deramus sang with the Crabb Family and when she was finished led the Pledge of Allegiance and then said she had two goals. One is to set the Guiness Book of World Records for leading the Pledge in all fifty states and the other is to bring awareness to Down-Syndrome and get the right for Down-Syndrome people the right to vote. There is just something very special about this young lady."