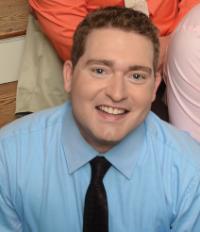 Ian Owens To Lend His Voice To New Animated Series
By
AG Publicity
Tuesday, February 5, 2013
Katy, TX (January 4, 2013)- Ian Owens, former bass singer for Ernie Haase and Signature Sound and current member of the Soul'd Out Quartet, will now be contributing his voice as Giles the Singing Bulldog in the new animated series, Jimmy Paul the Pug Tooth Fairy. The Elf Sparkle Group's films touch base on universal themes and messages to convey a quality program for all ages channeled through the pernicious Pinky and pals while raising pug awareness through entertaining animated films.

Ian's experience with Signature Sound and Soul'd Out has provided an unconventional approach to spreading the Good Message and is mirrored in Ian's approach to the character of Giles and the Jimmy Paul the Pug Tooth-Fairy animated series. It's about showing children and families that a noble and quality approach to the Word is not retroactive. It can be fun and fast-forward while respecting your fellow man.

Giles the Singing Bulldog, through Ian Owens, sings his lines in catchy tunes that bring a smile to the family friendly series. The theme song, titled "That's What It Means To Be A Dog", is a fun look at a dog's life and hopefully unveils the life that every dog deserves, including helping provide medical help and relief for pug owners. The song is sung by Jason Morales, formerly of the award winning Gospel group, The Imperials.