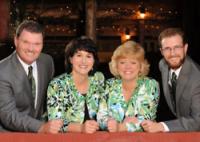 Chuck Wagon Gang To Appear On Marty Stuart Show And Eddie Stubbs Radio Show
By
Chuck Wagon Gang
Monday, January 21, 2013
From the Chuck Wagon Gang's newsletter:
While in Nashville, The Chuck Wagon Gang will be taping The Marty Stuart Show on Tuesday, January 22nd. This will be the Gang's second appearance on Marty's show. They will be singing a brand new song written by Marty, and an older song. The show will be shown later this year on RFD-TV. We'll let you know the specific dates when they are known.
Many of you have heard the great Eddie Stubbs radio show heard on WSM radio. The CWG has made several appearances on Eddie's show, and Tuesday night, January 23, the Gang will be guests again. They plan to arrive around 7:30 to get situated, and be on the air from 8-10 PM. The entire Gang will be there, and there will be conversation, recordings played, and they just might sing a couple of songs live. You can hear the broadcast at wsmonline.com or by turning into WSM Radio, 650 on the AM dial.