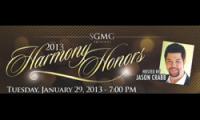 2013 SGMG Harmony Honors To Take Place Tuesday, January 29th 2013
By
SGMG
Monday, January 21, 2013
The Harmony Honors is an event put on by the Southern Gospel Music Guild to honor those in the Southern Gospel industry for their accomplishments over the past year.
The 2013 Southern Gospel Music Guild Harmony Honors event is set to take place at Trinity Music City in Hendersonville, TN. This FREE event will feature artists such as the Kingdom Heirs, Gold City, Mosie Lister, Greater Vision, the Booth Brothers, Lefevre Quartet, Dianne Wilkinson, the Nelons, Ronny Hinson, Tribute Quartet, Wynonna, Three Bridges, Phil Cross and Squire Parsons.
The event will be hosted once again by Jason Crabb. The event is FREE to attend and will take place on Tuesday, January 29th at 7pm Central. The doors open at 6pm Central.