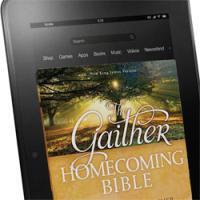 Kindle Fire Homecoming Bible Contest Winners Announced!
By
Staff
Thursday, January 17, 2013
The Winners of The Gaither Homecoming Bible contest have been chosen.
Regena Bargo of Grand Blanc, Michigan was the grand prize winner of the Kindle Fire HD - loaded with the Gaither Homecoming Bible - and a copy of the bible with a leather cover and 2 Gaither DVDs.
Also, five lucky winners received a hardcover copy of the bible and a Gaither DVD.
Virginia Ballinger of Tullahoma, TN
Tina Corey of Lillington, NC
Kathy Harris of Phenix City, AL
Marvin Merritt of Struthers, OH
Tracy White of Bedford, IN
Congratulations to all our winners!