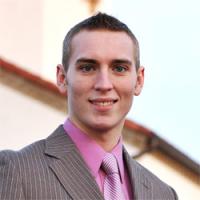 Jordan Cragun Stepping Down From The Liberty Quartet
By
Liberty Quartet
Thursday, January 17, 2013
Jordan Cragun joined Liberty Ministries, Boise, Idaho, in December 2009 as baritone. Effective January 20, 2013, Jordan will be stepping down to pursue other music opportunities with his vocally-talented wife, Elena.
During Jordan's time with Liberty Quartet, he earned his college degree, married, and was involved in the production of a number of new projects for Liberty. In Jordan's resignation letter he stated, "I believe with all my heart that God brought Liberty to where it is today, and will lead them to even greater heights in the future." Jordan's voice and his ministry from the Word has won the hearts and souls of audiences around the U.S. and wherever Liberty has traveled.
Liberty Ministries wishes Jordan the very best as he pursues his dreams and goals of gospel music ministry.
Liberty Quartet will announce their new baritone singer in the near future and we are asking Liberty family members to continue to pray for Jordan and Liberty as God guides and directs us into the future.