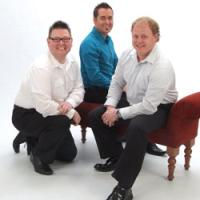 Restored Welcomes Robbie Moore And Chris Walton To The Group
By
Dallas Rogers
Friday, January 4, 2013
Cleveland,TN- Dallas Rogers, co-owner of Restored would like to welcome Robbie Moore and Chris Walton to the group.
Robbie sang with Emmaus Road Quartet for nearly 10 years and makes his home in Chatsworth,GA. Chris Walton is no stranger to the Gospel music field. He sang lead for the legendary Melody Boys Quartet for the past 4 years all the way up to when Gerald retired the group. Chris will be filling the baritone position for Restored. Chris makes his home in Calera,AL
Dallas adds, "I'm truly excited to have Robbie and Chris as part of this ministry. We've been in the studio working and both guys have done an awesome job. These guys have worked really hard in learning new songs in a short period of time and I'm truly honored to work with these fine gentlemen in years to come."