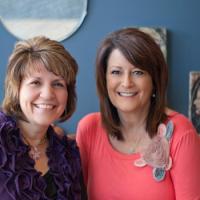 The 2012 Singing News Solid Gospel Songwriter Search Winners Are...
By
Staff
Friday, December 28, 2012
The 2012 Singing News/Solid Gospel Songwriters Search has now concluded, and the contest was a great success. Songwriters from all around the country sent in their original compositions to be judged by a top panel of judges. Singing News, Solid Gospel and Crossroads Entertainment are pleased to announce that the winners have been chosen!
Dixie and Sharon Phillips have won the Grand Prize with their song "Hidden Heroes". Congratulations to Dixie and Sharon!
CLICK HERE to here their winning entry, "Hidden Heroes", in it's entirety!
Dixie and Sharon are sisters-in-law, and are both married to brothers who are pastors. Dixie and Sharon have been involved in full time ministry for more than 30 years, sharing their songs with their church congregation. This ministry couple has faithfully served the congregation of Calvary Baptist Church in Camden, Arkansas for 27 years.
Sharon has taught piano and voice for 30 years. She serves as church accompianst and enjoys working with the praise band. Sharon and pastor Don phillips have three grown children and two grandchildren. Dixie has been married to pastor Paul Phillips for 35 years. They have been honored to serve as Gospel Lighthouse Church in Floyd Iowa for 31 years.
Dixie is a ghostwriter, children's author and a contributor to Guideposts' Prayer Series. Dixie and Paul have four grown children and four grandchildren. Dixie and Sharon said "we will never forget this day and you have made our Christmas brighter with this great news!"
Dixie and Sharon entered last years contest with Singing News, but didn't win the grand prize. Dixie said "we decided to try once again this year and boy did it pay off!"
Now Dixie and Sharon will be staff writers for Crossroads Entertainment. Chris White and Singing News are thrilled to have them aboard.
The Runners Up were(click on song title to hear the song):
You can here many of this year's entries in their entirety by clicking here. Enjoy!