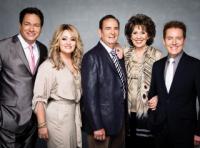 The Hoppers' GMA Hall Of Fame Induction Video- Sunday, December 23
By
Mike Hopper
Tuesday, December 18, 2012
(From Mike Hopper)
Fifty-five year veterans of Gospel music, The Hoppers, were recently inducted into the Gospel Music Association Hall Of Fame.
Their inspiring evolution as a group and pressing impact on the genre speak for themselves, but the powerhouse performances and heart-gripping testimonies are what have aided in their recognition.
You can join in on congratulating and supporting The Hoppers as they continue spreading the love of Christ in the same manner as they have for more than half a century on this special event, Sunday December 23 at 7:00PM Eastern on the Hoppers' Youtube channel.
Special guests will be Jason Crabb, The Talleys and Gene McDonald.