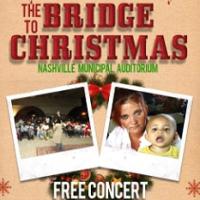 The Bridge Ministry In Nashville, TN To Hold Christmas Event At Municipal Auditorium On December 22
By
Candy Christmas
Wednesday, December 12, 2012
ABOUT THE EVENT(From Candy Christmas and The Bridge Ministry):
As you may know, "The Bridge" has been serving the poor in Nashville for 9 years. Every year during the Christmas season, sleeping bags, coats and toys are delivered to the homeless and needy. Last year, we served 1200 at our Christmas distribution/service under the bridge. Since last year our attendance, homeless and volunteers, has multiplied. Because of limited space under the bridge, we are moving this event to the Municipal Auditorium.

The Christmas holidays are a very sad time for so many children in Nashville. Many children that I come in contact with are food insecure, some live in cars with parents, or move from seedy hotel, to seedy hotel. Sadly most of those children won't have a Christmas gift without the help of kindhearted people. It is staggering to me that the Davidson County School System in Nashville, TN had 2,049 homeless children registered last year.

We have planned a wonderful Christmas celebration/concert this year where needy children, the homeless, and the poor are our guests of honor, and will be the recipients of gifts and food items. This event will be held on December 22, at the Municipal Auditorium from 2-4 p.m.
We are partnering with Feed The Children, Soles 4 Souls, Dollar General, Second Harvest, the CMA, and many area churches (Oasis Worship Center, Cornerstone, to name a couple) to insure that we have ample gifts for our friends.
Hosted by Candy Christmas featuring Ricky & Sharon Skaggs, Jason Crabb, Christ Church Choir, Cathedral of Praise Choir, and more to be announced!