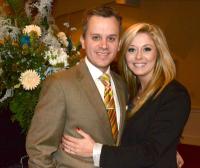 Aaron Hise And Suzanne Taylor Announce Their Engagement
By
Suzanne Taylor & Aaron Hise
Thursday, November 22, 2012
Morganton, NC - Aaron Hise and Suzanne Taylor were engaged on November 8, 2012. Aaron says, "While we were singing at an annual Bible Conference in Myrtle Beach, S.C., I had asked Suzanne to join us that week. Suzanne loves the beach, so I knew that's where I wanted to ask her."
While walking on the beach, Aaron knelt down on one knee and asked Suzanne to marry him. Suzanne says, "Aaron couldn't have picked a more special place to ask me to marry him. Of course, I said yes!!"
For the past 12 years, Aaron has been the lead singer for The Whisnants. While Suzanne travels with her family, The Taylors. Both will continue to singing in their current ministries.
Please continue to encourage and pray for them as they celebrate this new and exciting chapter in their lives. Aaron and Suzanne are planning a May 2013 wedding.