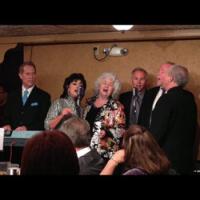 The Hemphills Sing Together For The First Time In 23 Years, Unplanned!
By
Bob Crawford/Staff
Friday, November 9, 2012
Bob Crawford, contributing writer for Singing News Magazine, sent this wonderful and unique memory he experienced during a fund raising cruise for The Bridge Ministry in Nashville, TN that brings the Gospel and great Christian music to homeless people very week.
"Of all the magical moments in my rather colorful career, I may have peaked, last night, with a huge surprise for everyone present. At the annual Bridge Ministry Gala/Fundraiser, aboard the Music City Queen, a random Auction Bid called out for Candy Christmas to sing. Before it was over, someone had Bid $800 to hear ALL of The Hemphills sing. For the FIRST time in 23 years, they sang together as a Family. Folks, it sounded like 1980. An AWESOME moment. P.S. I cried."
You can find two videos of their impromptu performances on the Singing News Facebook page at www.facebook.com/singingnews