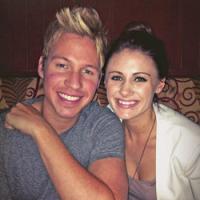 Jacquelyn Crist Engaged To Micah Schweinsberg
By
Crist Family
Tuesday, October 23, 2012
From the Crist Family website and newsletter:
On August 4th, a day before her 23rd birthday, Micah Todd Schweinsberg asked Jacquelyn Joyce Crist for her hand in marriage. Micah met with me to ask my blessing shortly before asking Jackie to marry him. I gave a resounding "YES"!! Micah planned the proposal for one of our concert weekends in Smith Island, Maryland. Micah went with us on the weekend of August 4th. We always enjoy our concert weekends in Maryland. We have been asked to sing in Smith Island at their annual camp meeting for the last 4 years. Micah pre-arranged to have one of the fishing boats and captains take himself and Jackie out on the Chesapeake Bay at sunset the night before our concert. It was there that he asked for her hand in marriage.
Micah and Jackie are planning their wedding for this November 24, 2012 here in Knoxville, Tennessee. Micah and Jackie will be living in Gallatin, Tennessee.
Jackie, like her sister Breana, is committed to stay on the road with The Crist Family until God directs otherwise. Both Breana's husband Josh, and Micah believe in and support our girls being in full-time ministry.