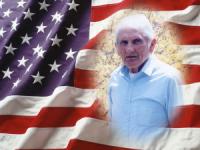 Father Of Singing News Writer Passes Away
By
Staff
Tuesday, October 23, 2012
Spruce Pine, NC - George Lee Gardner, age 87, of the the Ingalls Community of Avery County, North Carolina, and father of Singing News writer Tim Gardner, entered Heaven Sunday, October 21, 2012 from Blue Ridge Regional Hospital in Spruce Pine, North Carolina, following an extended illness.
Lee is a son of the late Bob Gardner and the late Nettie Hopson Gardner. In addition to his parents, he was preceded in death by his wife of 59 years, Grace Alma Gardner, a son, Jerry Lee Gardner; a granddaughter, Mary Grace Gardner; four brothers; four sisters; a half-brother and a step-brother.
Besides Tim, Lee is survived by two other sons: Gary Dean Gardner of Elk Park, North Carolina and Terry Hugh Gardner of Marion, North Carolina; along with several grandchildren, great-grandchildren, and step-grandchildren.
Lee was a highly-decorated World War II Veteran. He served as a scout in Company G, 119th Infantry of the Army's 30th Infantry Division, nicknamed "Old Hickory" in honor of former U.S. President Andrew Jackson. Lee's fighting encompassed five countries—France, Netherlands (Holland), Belgium, Luxembourg and Germany. He fought in five major battles: Normandy (D-Day), Northern France (Saint Lo), Central Europe Deutschland, Ardennes Mountains (The Battle of The Bulge) and Rhineland.
Citations Lee earned for meritorious achievement and service in military ground operations are extensive, including: The Silver Star; two Bronze Stars; two Purple Hearts; Good Conduct Medal; Efficiency, Honor and Fidelity Medal; Marksmanship Medal; American Defense Service Commemorative Medal; and Combat, Infantry and Rifle Expert Medal.
Lee later served in the Air Force in Japan for a year following the end of World War II.
The Celebration of Life service for George Lee Gardner will be held on Thursday, October 25 at 2:00 p.m., at Whites Memorial Baptist Church in Ingalls, North Carolina. The family will receive friends at the church on Wednesday, October 24, from 6:30-8:30 p.m. The church is located just off US Highway 19-E, eight miles North of Spruce Pine, North Carolina.
The service will be officiated by Reverend Eddie Deitz, longtime singer of the Inspirations Quartet and Archie Watkins and Smoky Mountain Reunion of Bryson City, North Carolina, Reverend Ken Price and Reverend Dana Williams.
Interment will follow in the church cemetery.
Please keep the Gardner Family in your prayers during this difficult time.