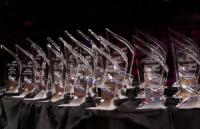 Watch The 2012 Singing News Fan Awards And SGMA Hall Of Fame Induction Ceremony All Over Again For FREE!
By
Staff
Wednesday, October 10, 2012
This past Wednesday, the Singing News subscribers selected their favorites in the 2012 Singing News Fan Awards And SGMA Hall Of Fame Induction Ceremony. The D.P. Celebrity Theater inside of Dollywood at Pigeon Forge, TN was packed with fans and artists for the Southern Gospel industry's PREMIERE fan-voted awards show and the most prestigious honoring of the newest SGMA Hall Of Fame inductees. The entire event was also streamed LIVE on our website, where an unprecendented number of participants joined to experience the event from their home. So many people watched that we had to switch to a higher powered server to handle it all!
The day was filled with activities, from the Red Carpet parade to the special presentation of the James D. Vaughan award, to the Singing News Fan Awards and SGMA Hall Of Fame Inductions show itself. We are happy to announce that you can now go to www.singingnews.com/fanawards and watch the ENTIRE show all over again, or for the first time, for FREE. You'll see every award, every performance and every Hall Of Fame induction.
If you just want to check out the winners, you can also find them on our Fan Awards page at www.singingnews.com/fanawards.
We have dozens of photos already available on our Facebook page, with many more to come.
Stay tuned as we bring you more and more from this wonderful day!