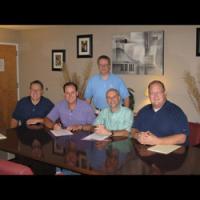 Carolina Boys Quartet Renews Contract With Crossroads
By
Crossroads
Thursday, September 6, 2012
ARDEN, NC: The Carolina Boys Quartet recently renewed their recording contract with Skyland Records, a division of Crossroads Entertainment & Marketing, Inc.
Group manager Chuck Lowe stated: "The Carolina Boys are proud to re-sign with Skyland, and are honored to be a part of the Crossroads family. God has blessed our ministry in so many ways, and our association with Crossroads is one of those many blessings!"
Crossroads Studio Manager Jeff Collins added: "It has always been a pleasure in being a part of this South Carolina based quartet. Chuck Lowe and all the guys are always fun to be around, ready and eager to do whatever is asked of them. We're excited to play a part in their continued growth and musical journey, and pray for much success in the Carolina Boys' future!"