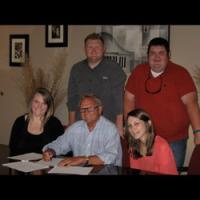 11th Hour And Crossroads Sign Long-term Agreement
By
Crossroads
Tuesday, September 4, 2012
Arden, NC - September 4, 2012 - One of the industry's up and coming artists, 11th Hour, has just entered a long-term recording agreement with Crossroads Entertainment & Marketing. The group is off to a strong start, already receiving multiple top 40 hits in the Singing News radio airplay charts and a recent top 10 nomination for Horizon Artist Of The Year in the 2012 Singing News Fan Awards.
"What a blessing," says group member Amber Eppinette. "Crossroads is such a reputable company. Being considered a part of their family is such an honor. 11th Hour's prayer is to always be found doing the will of God and we are very thankful He has led us to Chris White and Crossroads. We look forward to a long and successful relationship for many years to come!"
Crossroads executive Chris White states, "I got a call from Steve French with the Kingdom Heirs late on a Sunday night. He said, 'We just worked with a group you need to sign. They are incredible!' Truth is, they are, and I'm glad I took Steve's advice."