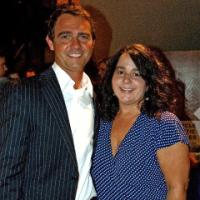 Update On Tim Duncan's Son
By
Staff
Tuesday, May 15, 2012
Updated News On Tim Duncan's Son
At approximately 7 p.,., (EST), Tim posted an update to his Facebook wall about his son, Breck:

Just talked with the ENT/Ortho surgeon and he explained the surgery for in the morning at 8:00 am. It will take anywhere from 6-7 hours if everything goes as planned. This will be a difficult one, he said it is very painful and recovery is slow. We were informed he will need surgery on his R foot/ankle in the morning also. This one will take about 2 hours. This will be a long difficult day for him and us. We are praying for God to guide the surgeons and Brecks pain to be eased. We love and appreciate all of you!
Tim Duncan posted an update on his son, Breck, earlier today:

Breck had a good night last night. He is definitely back to his funny self. I told him I would trade places with him if I could and without missing a beat he said I wish you could! Physical Therapy will be in today to evaluate him. He is scheduled for Facial surgery at 8:00 am wed. morning. I want to thank everyone for the prayers, texts and calls. It means more to us than you all will ever know!!
Several hours prior to this post, Tanya Goodman Sykes posted, on behalf of Tim and Melissa, the following to her wall:

Breck's surgery went great! They were able to repair all the broken bones and toes with screws and pins. They are hoping he won't suffer permanent damage to that foot. Today they found another fracture in his other foot so now.... He has a cast on both legs. I am sorry it took so long to post but we have been busy all day waiting for all the different doctors and tests being done. We appreciate everyone keeping us in your prayers. This is the beginning of a long recovery for him!!